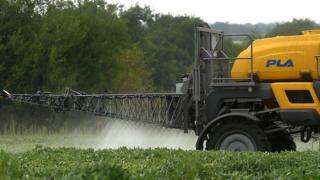 Chemical giant Monsanto has been ordered to pay $289m (£226m) damages to a man who claimed herbicides containing glyphosate had caused his cancer.
In a landmark case, a Californian jury found that Monsanto knew its Roundup and RangerPro weedkillers were dangerous and failed to warn consumers.
It's the first lawsuit to go to trial alleging a glyphosate link to cancer.
Groundskeeper Dewayne Johnson is among more than 5,000 similar plaintiffs across the US.
Mr Johnson was diagnosed with non-Hodgkin's lymphoma in 2014. He says that he regularly used a form of RangerPro while working at a school in Benicia, California.
Jurors in San Francisco found on Friday that the company had acted with "malice" and that its weedkillers contributed "substantially" to Mr Johnson's terminal illness.
Following an eight-week trial, the jury ordered the agricultural multi-national to pay $250m in punitive damages together with other costs that brought the total figure to almost $290m.
The use of glyphosate is controversial.
One UN study called the chemical "probably carcinogenic", although other scientists have said it is safe to use.